Christian Values & Ethos
Believe, Achieve, Succeed Together
At Croughton All Saints CE Primary School we believe that every child is a unique individual with great potential. Our drive for excellence and wanting to be the best that we can be, stems from our vision and inspires and motivates us to continuously improve standards and learning opportunities for all. This is reflected in our school motto: "BELIEVE, ACHIEVE, SUCCEED TOGETHER".
Our Mission Statement:
To enjoy school, achieve our best and lay foundations for life long independent learning
This is firmly rooted in Christian values. We look to Jesus as our guiding light. He inspires us to live out our Christian values and strive for excellence in all we do; celebrating life in all its fullness.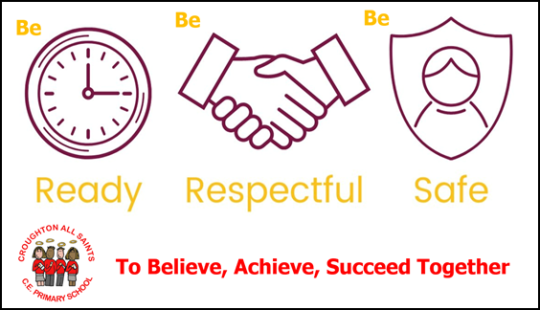 Believe
Our children are curious learners who embrace opportunities for spiritual development and respect for others

Achieve
Our children have the best possible environment where they are accepted and nurtured to fulfil their potential

Succeed
Our children are equipped with skills for the future and a thirst for life long learning

Together
Our close links with families, local community, church and Diocese enrich all aspects of school life

Our Christian Values
Our vision and values lie at the heart of every school day.. They contribute to the academic achievement, personal development and well- being of all learners. They support the spiritual, moral, social and cultural development of all learners – Christian, other faiths or of no faith. Our Christian values shape the relationships between all members of the school community and promote an understanding of and respect for diverse communities.
We believe the schools' core values encourage children to recognise the difference between right and wrong and how their actions affect others. As this understanding develops children learn how to co-operate and empathise with others of differing backgrounds.
Over the course of a year, we explore six core values: their meaning and significance in Christianity, other religions and secular teachings. We spend a term focusing on each core value in turn and to which our worship and church services are linked.
| Term | Christian Value |
| --- | --- |
| Autumn 1 | Charity (Generosity & Community) |
| Autumn 2 | Respect (Friendship & Peace) |
| Spring 1 | Love (Compassion & Caring) |
| Spring 2 | Forgiveness (Truthfulness & Wisdom) |
| Summer 1 | Justice (Honesty & Fairness) |
| Summer 2 | Courage (Perseverance & Hope) |
Promoting British Values
Within our school community the acceptance, understanding and engagement of the fundamental British values form an integral part of our Christian values teaching.
At Croughton All Saints CE Primary School we value the ethnic backgrounds of all pupils and families and undertake a variety of events and lessons to celebrate and explore these alongside other cultures in our country.
At Croughton All Saints CE Primary School, we ensure that the fundamental British Values are introduced, discussed and lived out through the ethos and work of the school. They are an intrinsic part of school life and closely linked to our Christian values of love, justice, forgiveness, respect, courage and charity, already embedded in all we do.
We encourage admissions from all those entitled to education under British law regardless of faith, ethnicity, gender, sexuality, political or financial status. We are a fully inclusive school.
At Croughton All Saints CE Primary School, the fundamental British values are reinforced in the following ways:
Democracy
Democracy is richly embedded within the school. Pupils have the opportunity to have their voices heard through our Circle Time sessions, School Council and House meetings, nominations for school awards and also for our Sports Crew, who help in developing and shaping the values of respect and teamwork though sport. Our school Behaviour policy involves rewards and sanctions; this underpins all aspects of school life and is shared with parents and children from Reception to Year 6.
The Rule of Law
Pupils are taught the value and reasons behind laws, that they govern and protect us, the responsibilities that this involves and the consequences when laws are broken. We encourage visits from authorities such as the Police and Fire Service to help reinforce this message.
Individual Liberty
Within school, pupils are actively encouraged to make choices, knowing that they are in a safe and supportive environment. As a school we educate and provide boundaries for all pupils to make choices safely, through provision of a safe environment and an empowering approach through the curriculum we deliver. Pupils are encouraged to know, understand and exercise their rights and personal freedoms and are advised how to exercise these safely, for example through our E-Safety and PSHCE lessons.
Mutual Respect
As a Church of England school, our Christian values and ethos promote values such as 'Respect', and pupils and stakeholders have been part of discussions to clarify what all our values mean and how they are demonstrated in action. Respect is taught explicitly within lessons and collective worship. It is shared with home through newsletters and website information. Adults throughout the school model, demonstrate and promote respect for others as do older children who have suitable, age related tasks and responsibilities and this is reiterated through our rules for learning in every classroom, as well as our behavior policy.
Tolerance of those of Different Faiths and Beliefs
Croughton All Saints CE Primary School is a Church of England school as well as being a culturally rich and diverse school where children have unique opportunities to learn from each other by sharing and celebrating their different faiths and cultures. Collective worship and discussions relating to issues such as prejudice and prejudice-based bullying are supported by learning in RE, Philosophy for Children and PSHCE. Members of different faiths or religions are welcomed into school and encouraged to share their knowledge to enhance learning within classes and the school.